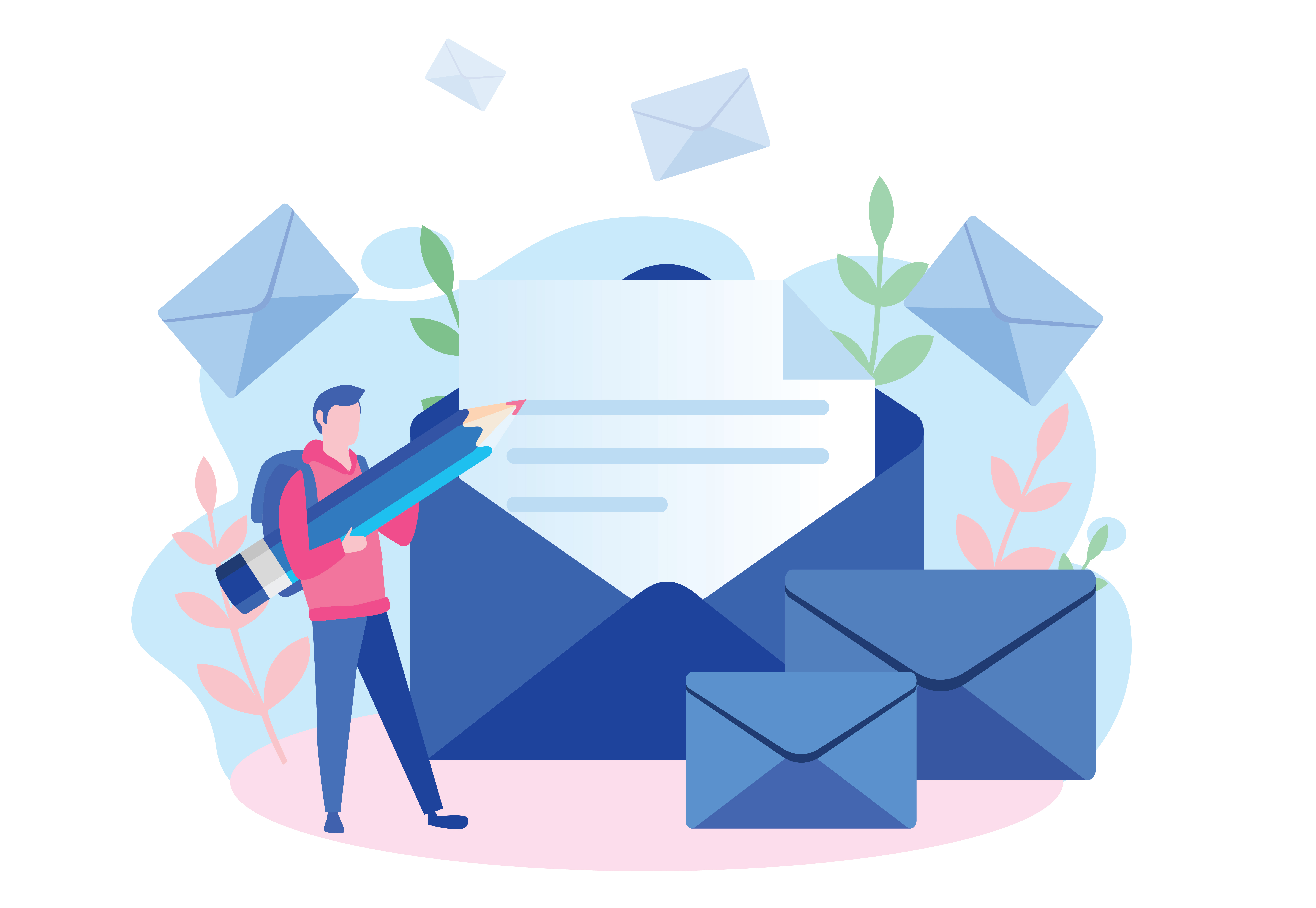 3 Tips on Attracting College Students Through Direct Mail
As Student enrollment is essential for colleges and universities, see how direct mail becomes an effective tool for recruiting prospects - with these 3 tips intact.
How did Baylor University, the oldest continually operating university in Texas, skyrocket the needle on student enrollment from a 0.5% response rate to as much as 5% on application requests? The answer: through one effective direct mail campaign, titled
"Water Reveal."
Facing a landscape of approximately 144 competing colleges and universities throughout the state of Texas, many of which are larger institutions than Baylor University and many of which offer lower tuition rates, Baylor wanted to be recognized as cool, fun, and up-to-date. The university chose to stand out amidst the sea of competitors via direct marketing — by way of water.
Situated on the banks of the Brazos River in Waco, Baylor had recently opened the school's $260 million new football stadium whose horse-shoe-shaped design opens directly onto the Brazos and allows fans to canoe, kayak, and sail right up to the stadium to catch the game — from the water.
Enter the savvy direct mail campaign that Baylor University activated for four years running and an "Irresistible Mail Award Finalist" from the U.S. Postal Service, "Water Reveal":
Just Add Water

: As larger-than-standard 9x6" postcards landed in homes, the school's mascot, the Baylor Bear, urged recipients to "Just add water. Seriously, run water over this card." When wet, a newly revealed message magically appeared alerting the recipient with, "Our free application is now open. Apply now!" along with a registration URL – an easily trackable way to gauge visits and enrollments.
Immersive Experience:

Postcard mailings featuring full-color imagery of the stadium at the water's edge read, "Next year, immerse yourself in the Baylor experience," "Keep cool with a walk along the Brazos River," and "Take a break at the Baylor Marina."
Drenched & Entrenched:

Water Reveal introduced prospective students to Rosenbalm Fountain, a local legend located in the heart of the campus at the Fountain Mall while highlighting a renowned Baylor professor for his research into clean water resources.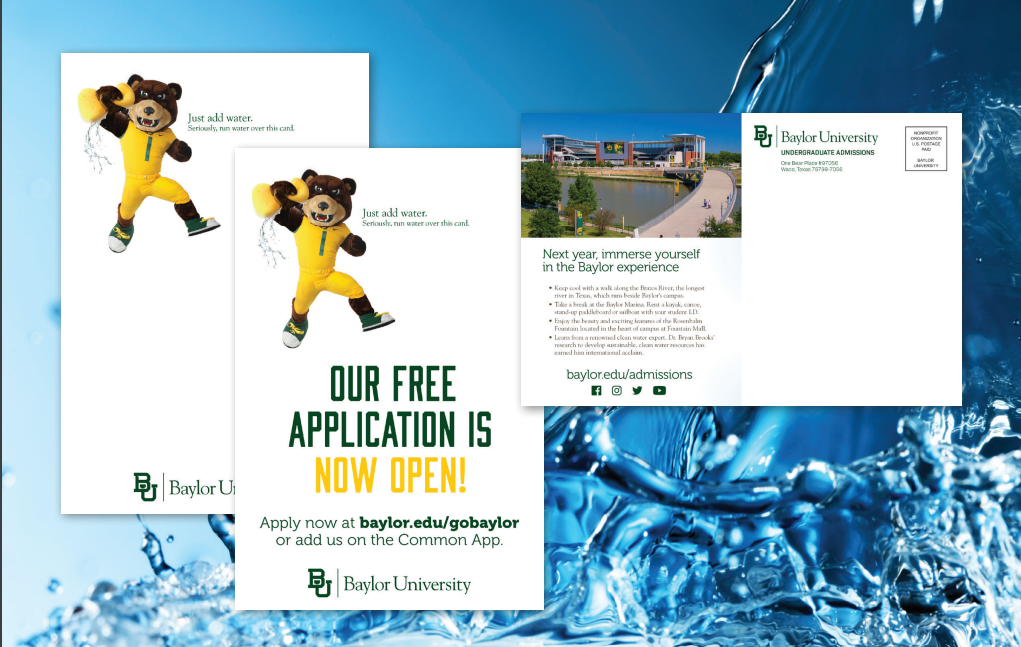 With cohesive creativity and stealth strategy, direct mail offers colleges and universities the opportunity to create the perfect storm — or, as in Baylor's case, the clear waterway — of introduction, enticement, and emotional connection that simultaneously enhances student enrollment. President of Caylor Solutions, a marketing agency that helps colleges and universities improve communications, Bart Caylor says that some colleges and universities are blind to the need for student recruitment, others recognize the importance of relevant marketing but miss the mark with today's prospective students.
"Just sticking a 'Hey First Name' on marketing material is old and tired," Caylor says. "They've already seen it, and they see through it. Today's students seek out true authenticity, they want genuine interactions, and they want to feel seen … that a college or university took the time and effort to really see them and know who they are as individuals. College is one of the largest investments a person will make in their lifetime, and the decision on which college or university is largely based on emotion, more than facts."
As student enrollment is essential for colleges and universities, see how direct mail can become an incredibly effective tool for recruiting prospects — with these 3 tips intact.
Tip 1: Speak to Your Audience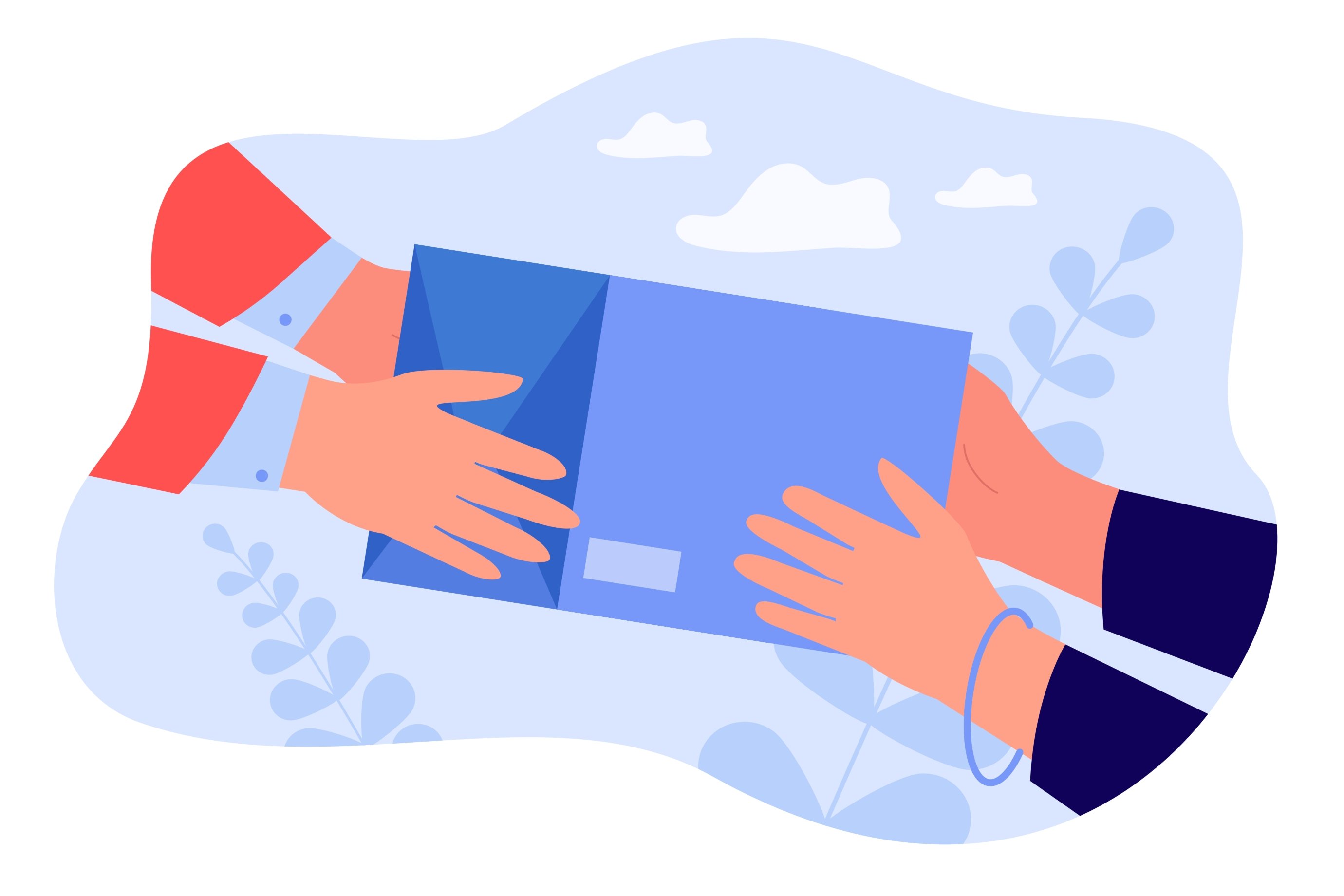 It's important to understand clearly that the audience in this specific instance includes two very different decision-makers: students and parents.
Where an email or digital ad may reach a prospective student, direct mail reaches homes — a clear advantage as the marketing material is seen and experienced by all in the home, and both target audiences at once. Also, Caylor points out, "Paper itself is seeing a resurgence, especially with the younger generation who've never really experienced what paper can be or personally received direct mail. They're used to digital, they're kind of fascinated by paper."
Caylor acknowledges that the sky's the limit on creative notions to attract students through direct mail, but says that understanding the need to speak to two very different audiences — students and parents — is the tip. For example, Caylor Solutions speaks about a direct mail campaign, "Revenge of Analog", that included sending a printed newspaper to the homes of prospective students. "Gen Z has never experienced receiving the newspaper, it feels novel, while Boomers gain a sense of nostalgia with the newspaper in hand. It presents the opportunity to connect in a tactile and emotional way that is also memorable."
Tip 2: Highlight Emotive Benefits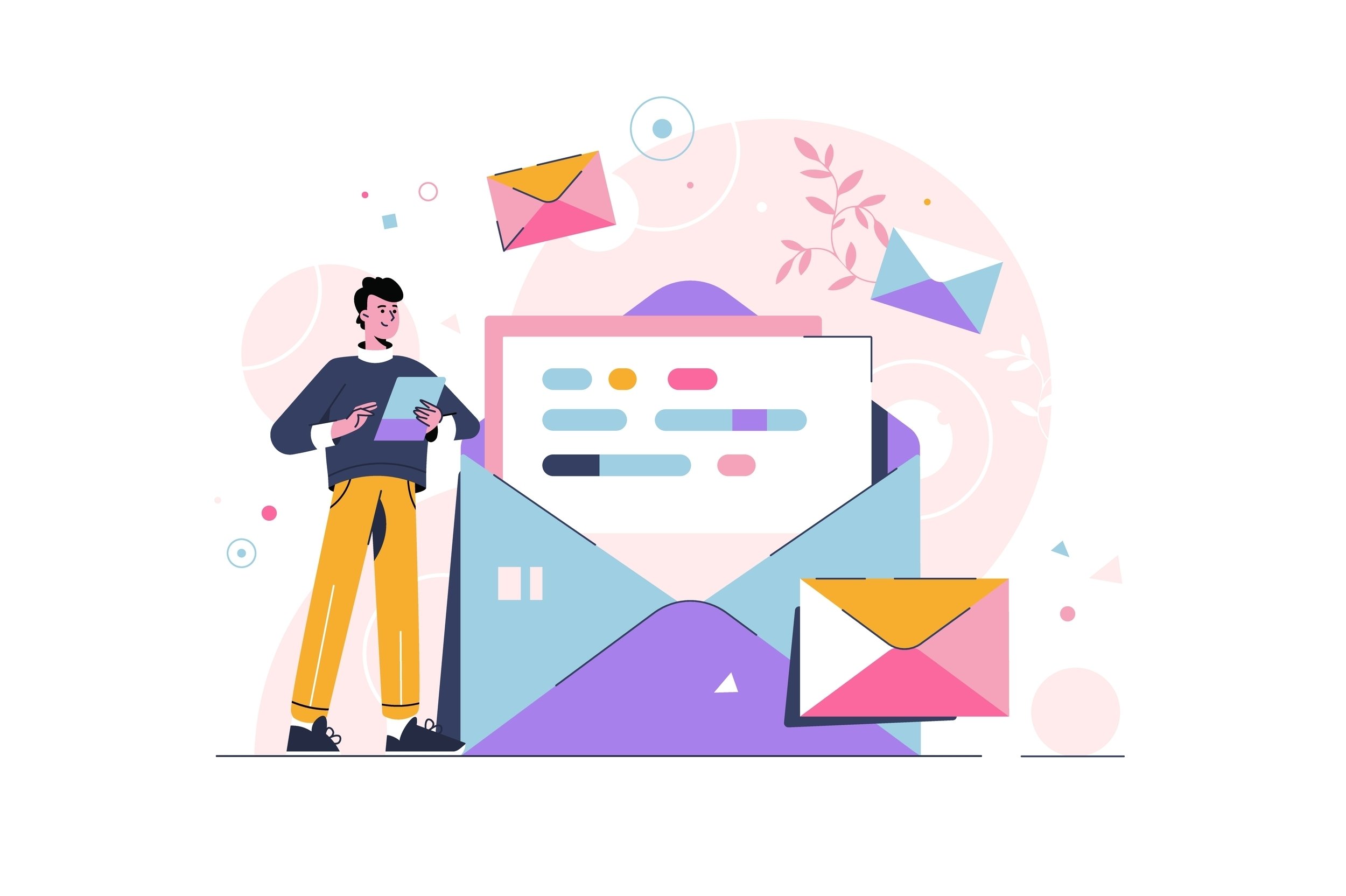 Caylor says colleges and universities too often showcase features and inadvertently miss the opportunity to highlight their benefits that will emotionally resonate with the audience. "The fact that your library has 2.6 million books or the number of board members and faculty, these are not benefits," Caylor says. "We see a lot of '$375/credit hour' type marketing, but what does that even mean to the audience? Imagine trying to buy a kitchen table, featured as sold by a price per square foot. It's not clear, and the benefit is actually seating for eight."
Effective direct mail highlights emotive benefits that further prospective students' experience of visualizing themselves at the college or university and seeing their future as possible and attainable by attending. For example, a university with a specialized pharmaceutical program might include imagery showing a student in a lab coat or conducting a chemistry experiment. "Anything besides three in a tree," Caylor says, referring to overused, vague imagery that misses the mark on highlighting the university's specific benefits or relaying a feeling of personalized attention and possibility.
Tip 3: Make It Smart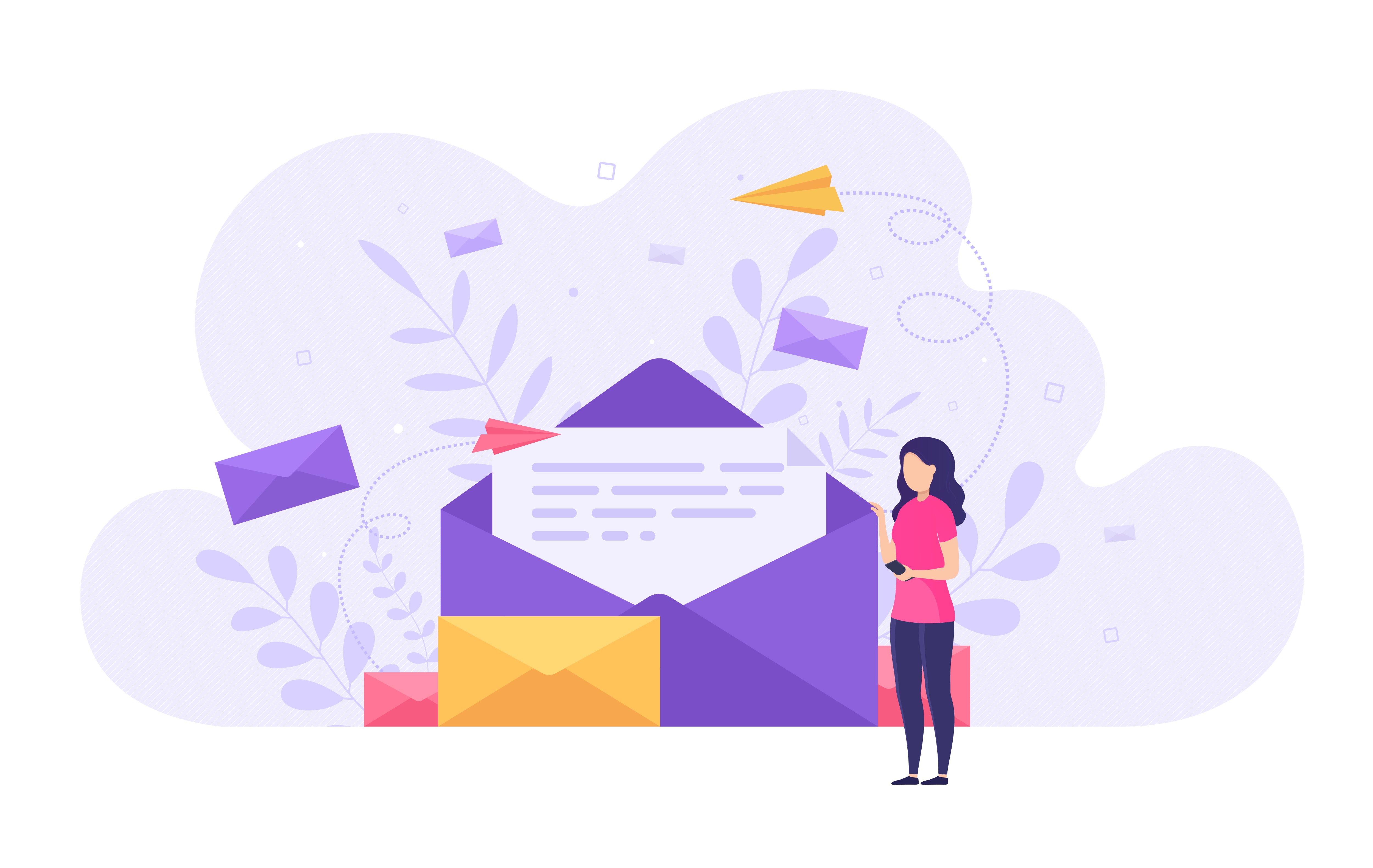 "Certainly the goal is to create a mailer that is interesting and memorable," Caylor says, "but it's also to be smart." Caylor suggests creating direct mail that includes measurable ways to gauge what's effective, and what's working. Just as Baylor University's successful "Water Reveal" direct mail campaign included a magically revealed registration URL — a trackable way to gauge link visits and enrollments — direct mail can better attract college students when it's possible to gauge its success. Will prospective students react more favorably to a QR code or a URL? The point, the tip, is to find out by creating direct mail with measurable results.
How did Baylor University skyrocket the needle on student enrollment from a 0.5% response rate to as much as 5% on application requests? The answer: through one effective direct mail campaign that went far beyond Hey [First Name]! to genuinely speak to its audience(s) and highlight its benefits, by way of water, which helped its prospective students feel a connection with the cool, up-to-date university where they could visualize themselves right in the flow and see their bright, sparkling future, and they were given a direct link to enroll and — measurably 0.5% to 5% — they did.
For information on direct mail that makes a splash, Just ask.