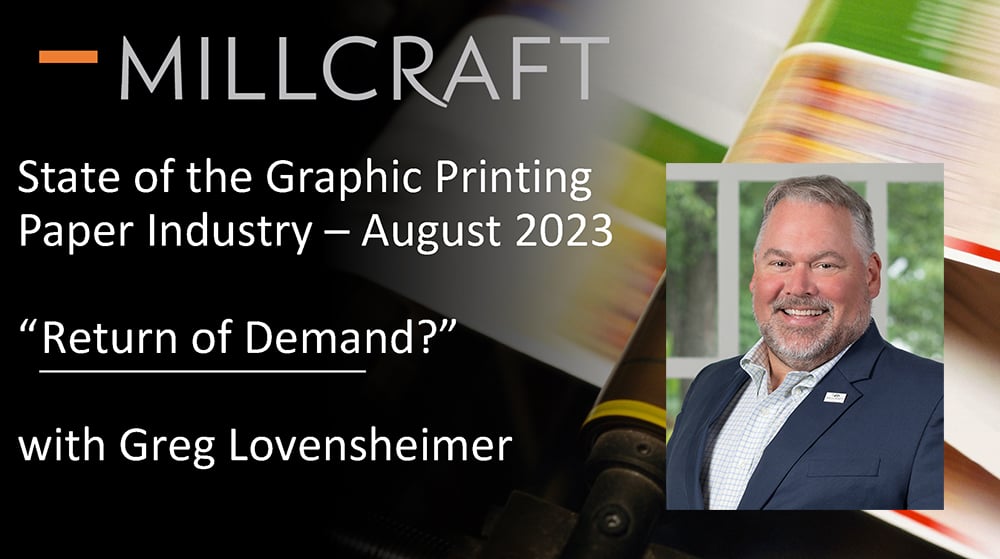 Millcraft State of the Graphic Paper Industry Q3 2023 Update
Discover short and long-term projections for the graphic paper industry in this Q3 update titled "Return of Demand?"
Less than two minutes into this industry update, you'll be welcomed to join hundreds of industry professionals including printers, end-users and agencies, suppliers and producers, distributors and re-distributors to partake in a cross-sectional poll—why?
Because as Millcraft Executive Vice President and Chief Operating Officer Greg Lovensheimer shared in Q2 and reiterates in this Q3 2023 industry update, "Transparency, sharing point-of-sale and inventory data, results in the lowest total supply chain cost structure." Be sure to tune in at 7:00 and see for yourself how and why polled answers become extremely important in predicting the outlook balance of 2023 and into 2024.
Watch the Millcraft State of the Graphic Paper Industry Q3 Update as Greg delivers a macro- to micro-level overview of current domestic and global graphic paper industry trends and provides insight, strategy, and actionable guidance on navigating the commercial marketplace that remains in a state of flux – as we head into seasonal demand with a postal service incentive, election year, and the Olympics on the horizon into 2024.
From Q2 to Q3
In Millcraft's Q2 Industry Update, titled "The Backlash of the Bullwhip", Greg introduced us to the Bullwhip Effect, characterized as small movements at the front that create larger and larger waves down the supply chain. In terms of the graphic paper industry supply chain, Greg explained how the industry, from forest floor to end users and finished goods, experienced backlash, or the secondary effects, of the bullwhip in Q2 – and he proposed what he called the Bullwhip Solution.
"Visibility, transparency, and sharing information is the best solution to offset the Bullwhip Effect, mainly from the point-of-sale & inventory levels from end users to manufacturers. Data info sharing absolutely remedies the situation – the issues and effects – from the Bullwhip Effect."
In Millcraft's Q2 Industry Update, Greg gave an overview of imports, inventory levels, suppliers taking market related downtime, and demand. "The concern is, 'Is current demand real?' We do not have a good line of sight for what the true demand is for print. Erratic upswing and now downswing, where's the real demand? That's the question that remains unanswered," Greg said in Q2.
The title of Millcraft's State of the Graphic Paper Industry Q3 Update is "Return of Demand?" Greg's update includes concerning points, and also potential good news.
Macro Forces at Work in Q3
Manufacturing – In Q3, the American manufacturing sector is contracting, which is concerning, but at a slower pace than it has been. "More importantly and maybe good news is that supplier deliveries are coming faster. Over the last 10 months, supplies have rebounded which has potentially allowed inventories to rightsize." Greg notes that information from ISM's Purchasing Manager Index includes the entire spectrum of the economy, not just print. "However, it's an interesting microcosm to look at and to understand, and it would currently say that supply channels have been restored to manufacturing and customer inventories may be understated right now, and maybe, just maybe, manufacturing is positioned for a rebound."
Interest Rates – With eleven hikes since March of 2022, the interest rate environment is the highest it's been in the last 22 years. Greg says to expect at least one more increase, likely in November. "What does that do? Higher interest rates cause things to be more expensive, especially if you're financing them. That impacts manufacturing and also begins to start to hamper the American consumer. This is absolutely weighing on the economy."
Labor Market – Greg says printers report in Q3 that labor is their number one issue. "It's no longer paper pricing, paper availability, it's labor. It's access to consistent labor, people who show up each and every day." Positive news for employers is that the labor market may be returning to historical norms; an approximate 8% unemployment rate and 3% jobs open rate was the norm June 2009 - June 2020 (pre-Covid) and we're currently around 3.75% unemployment and 5.25% jobs. Greg says to watch for improvements in return-to-work rates due to government return-to-work mandates.
USPS Postal Hikes – "There's no doubt that postal rates have absolutely impacted direct mail volume." Postal rates for first class mail are up 32% since 2019, with the last round of rate increases in effect as of July 2023. Expect another increase January 1 2024, and likely July 2024, too.
Domestic and Global Freight – "The good news is that domestic freight costs have somewhat flattened out." The concern is freight rates are being affected by private carriers starting to leave the industry. In global freight, container costs are down and closer to historical levels, but reliability is at approximately 65% and not back to pre-pandemic levels.
Q3: State of the Industry
Demand – Consumption is now off 1.4 - 1.5 mm in demand in uncoated freesheet and coated freesheet, and demand has dropped below Covid levels. Greg explains that UFS has 6.8 mm capacity but only 5.4 mm demand, and CFS is down to 1.5 mm in demand. However, despite 20 - 30% drop in demand, mill inventories remain somewhat stable.
Inventory – "With UFS at over 40 days of supply and CFS around 42 days, that's not even back to pre-Covid levels. Keep in mind, there have been a lot of structural changes where a lot of North American suppliers have taken out their RDCs, and you need to rely on your merchants." Despite the drop in demand, mills inventories are able to remain stable because of operating rates. Mill downtime is absorbing lack of demand. Mills are unfixing fixed costs and becoming more nimble and more flexible, and many suppliers are able to report positive earnings despite low operating rates. Merchant inventories are back in line with historical levels, while printer inventories may still be elevated.
Imports – Imports have pulled back and fallen below Covid levels, down dramatically in UFS (-45%) and CFS (-50%) in the last 90 days, as of late August 2023.
Outlook Balance of 2023 into 2024
"So, when does demand return?" Greg says. "That's the question everyone wants to know. The supply side is there, supply channels are ready, demand is just not there. So when does it return?"
Greg points toward optimism around 2024. "There's a belief that demand starts to really return in 2024 as some of the industries that drive print start returning to growth." Greg says there are several things coming in the balance of 2023 and in 2024 that will drive print, from an anti-plastic movement that is underway and makes paper and fiber-based alternatives necessary as people start to evolve from plastic packaging, to a United States Postal Service promotion.
The USPS in 2024 will offer one incentive for First-Class mail and another for marketing mail; for every piece of mail after its 1 millionth that a customer sends in 2024, it will receive a 30% discount. "It's expected to lift about a billion dollars in new revenue," Greg says. "We've really not seen a program like this from the USPS since the early 2000s, it's a really wonderful program, and it should absolutely drive marketing mail and direct mail."
A new SEC ruling called Tailored Shareholding Reporting will greatly impact the financial print community and is expected to drive a bump in mail toward the first half of 2024. Greg points out that 2024 is also a presidential election and an olympics year. "While direct impact is hard to quantify, there's no doubt that these events drive print."
Prescription for Success
At 54:00 on the button, Greg delivers a 5-step success plan for the balance of 2023 and into 2024 that includes developing and trusting established supply chain partnerships. "The worst thing you can do is make a bet right now, because as the market turns back around, it has the potential to bullwhip. There's no doubt about that, especially as tight as some inventory levels are on the supplier side and merchant side."
Discover the remaining steps for success and how to prepare for what Greg refers to as "wildcards" that have the potential to affect the industry (including the 2024 election).
By: Jen O'Deay


Millcraft is committed to being your competitive advantage. Leveraging our global supply chain partnerships to gain additional volume and offer the deepest inventory stocking levels, we order mill direct, share market data with our partners, and we remain committed to a $100 In-Stock performance guarantee. To learn more, Just ask.