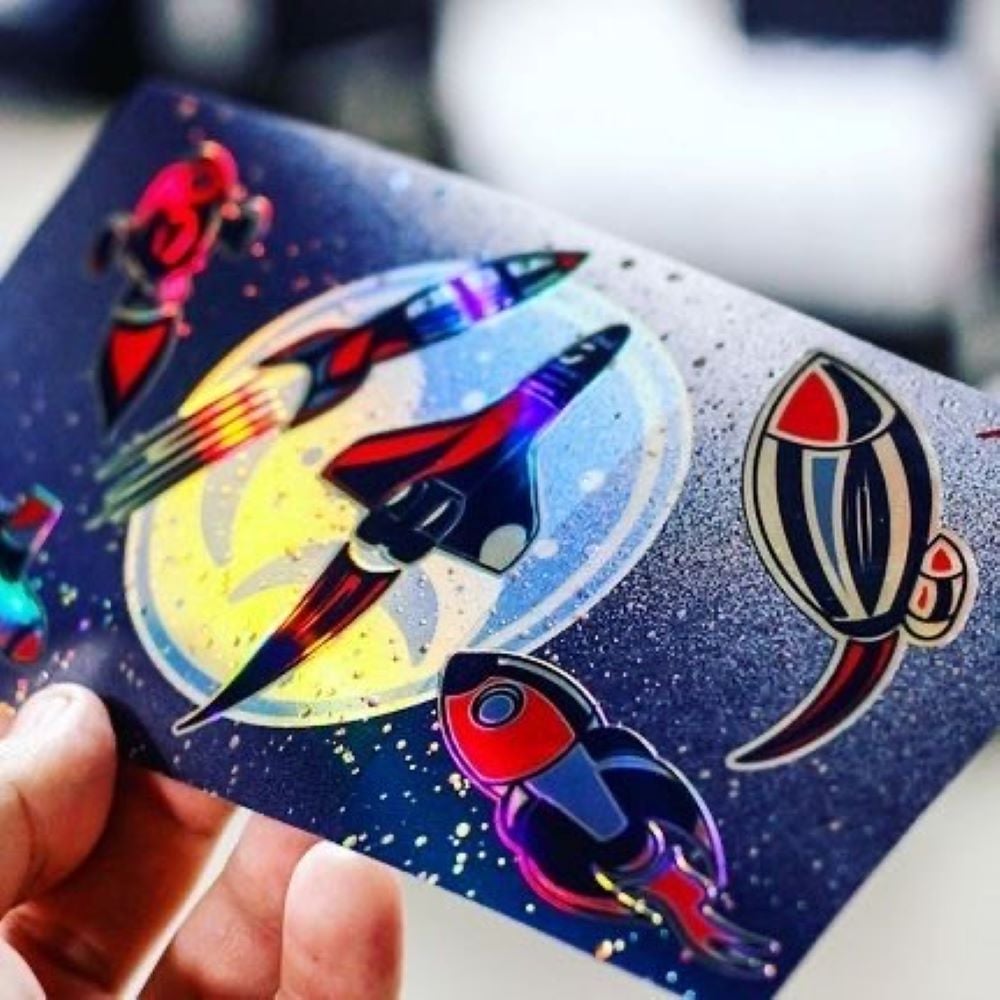 Sparkle, Shimmer, Shine–Now You See It!
See why wide-format foil techniques are in demand, what's trending, and how to capitalize on this gorgeous value-add.
Because catching a customer's eye can be enough to influence them to buy, the challenge businesses continually face: How best to catch the customer's eye? The challenge continues to grow as today's consumers are even more engrossed by virtual information, data, digital messages – today's consumers crave an experience that print holds a unique opportunity to deliver.
Enter sparkle, shimmer, shine – that thing that catches your customer's eye – and it becomes clear why foil techniques are in demand. Or rather than clear, it becomes a strategic splash of gold here, a flash of metallic silver there, a dash of any color you can imagine and even a holographic full-spectrum experience to add a third dimension pop to print that's impossible to miss, which is proven to create sales.
Printingnews.com reports enhanced print sells between 24% and 89% more than non-enhanced print, and a recent study conducted by Sonoco Institute of Packaging Design and Graphics at Clemson University, reported by the Foil & Specialty Effects Association (FSEA), involved creating an unknown brand of disposable single-serve coffee packaging and comparing it to name brand packaging on a retail shelf. The study concluded that stamping the cartons with gold foil induced shoppers to purchase the unknown coffee brand just as often, or more frequently, than well-known name brands.
While wide-format printing on metallic and holographic foil materials isn't new, it is trending and in demand because it gets results. While it was traditionally used in the cut vinyl space, it's ideal for digital printing for short-run, customized, and personalized applications, and the newest options are available in rolls over 24 inches and ideal for wide-format PSPs.
Product Manager for Cut, Transit, and Wall Solutions at General Formulations, Jay Kroll says that embellishments, along with being eye-catching, also heighten perceptions of value, status, and brand prestige in printed collateral and customer communications of all kinds, from stickers to wall size displays. "In the sense of best practices," Kroll says, "instead of looking at embellishment after the fact, printers today are thinking of holographic media as the main substrate and the sky's the limit from there. Sign shop owners and PSPs are some of the most creative, weird, wild people out there, and they're finding creative ways and products to print using metallic and holographic foils."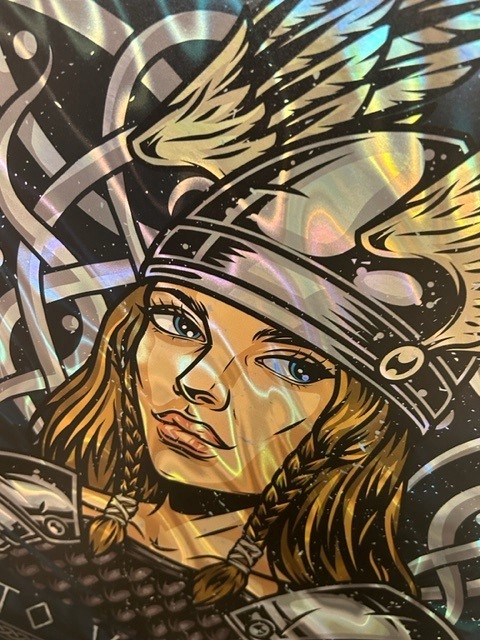 Trending: Holographic Foils
With vibrant and shifting colors, holographic foil, or rainbow or iridescent foil, is made in the same way as metallic foils but includes an embossed pattern that refracts the light and shows the colors of the spectrum at different angles. Bringing light and movement that enhances static graphics, holographic creates a dynamic and multidimensional effect that grabs attention and can provide a powerful visual appeal and prestige to products, helping them stand out in crowded markets.
Kroll says holographic foil, while not new, was more of a niche specialty item before recently surging in popularity across multiple industries. The trend driving demand may be related to the pandemic's effect of moving much of the buying journey online, accelerating the shift away from "informational" print to "impactful" or "memorable" print that provides a distinguishing value-add for brands looking to stand out and be remembered.
Embellished print speaks high quality, and not just about the printed piece itself. The perception of quality extends to the business or organization that is using the piece as a marketing tool. The look says it all about the originator's characteristics and values, and big-name brands are joining the foil trend.
A recent white paper from the FSEA showcases an embellished direct mail campaign created for Jeep. Knowing that the target market for Jeeps tend to be the outdoorsy type, the company produced 250,000 mailers that optimized its use of embellishments to make it look and feel like a camper's backpack, including the zipper. Also, the relatively new and burgeoning cannabis industry has lit up embellished packaging with holographic foil as a way to exude a premium look to consumers, as well as enable micro-brands to capitalize on their share of shelf space.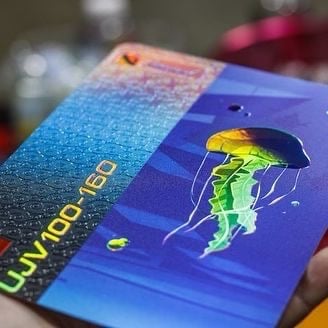 Foil techniques and holographic foils are trending in retail and packaging, events, trade shows, exhibitions, and in the advertising specialty promotional market for stickers, decals, and car wraps. They are also popular for holiday/seasonal displays and are used as a decorative element or background effect on specialty consumer packaged goods labels. Kroll says General Formation's 765 Rainbow Holographic is in high demand for its cross-platform printable capabilities. "It's distinctive appearance sets products and marketing materials apart from competitors," Kroll says, "and helps make them more memorable and recognizable."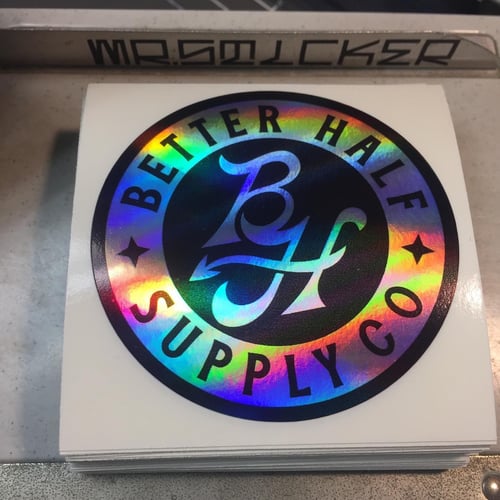 Best Practices
When designing for and using wide-format foil techniques, Kroll says best practices include planning your design thoroughly and carefully considering the areas where you want to apply foil or apply ink when using holographic foil as the base color. Prior to full-scale production, conduct test runs to gauge the desired effect including experimenting with different application techniques, color combinations, and foil variations.
"I would never tell a designer what to do or even what can be done with foils and holographic printing," Kroll says. "I would tell them that the sky's the limit, it really is." From stickers to business cards with holographic stickers and QR codes to a large trade show display by Mimaki that showcased the quick-flash visual appeal of holographic material in the form of a fishing decal, Kroll says he's seen countless creative outcomes from wide-format foil techniques.
With nearly limitless artful combinations of color, ink, coatings, and foil, Kroll says getting started using wide-format foil techniques is an easy value-add for PSPs, especially if they already have digital wide-format equipment. "It's a low point-of-entry price point, and there's no special handling equipment, you really only need the material."
With sparkle, shimmer, and shine, now you see it—why wide-format foil techniques are effective and in demand and how to capitalize on this gorgeous value-add. Because catching a customer's eye can be enough to influence them to buy.
By: Jen O'Deay
To learn more about wide-format foil techniques and holographic materials, Just ask.