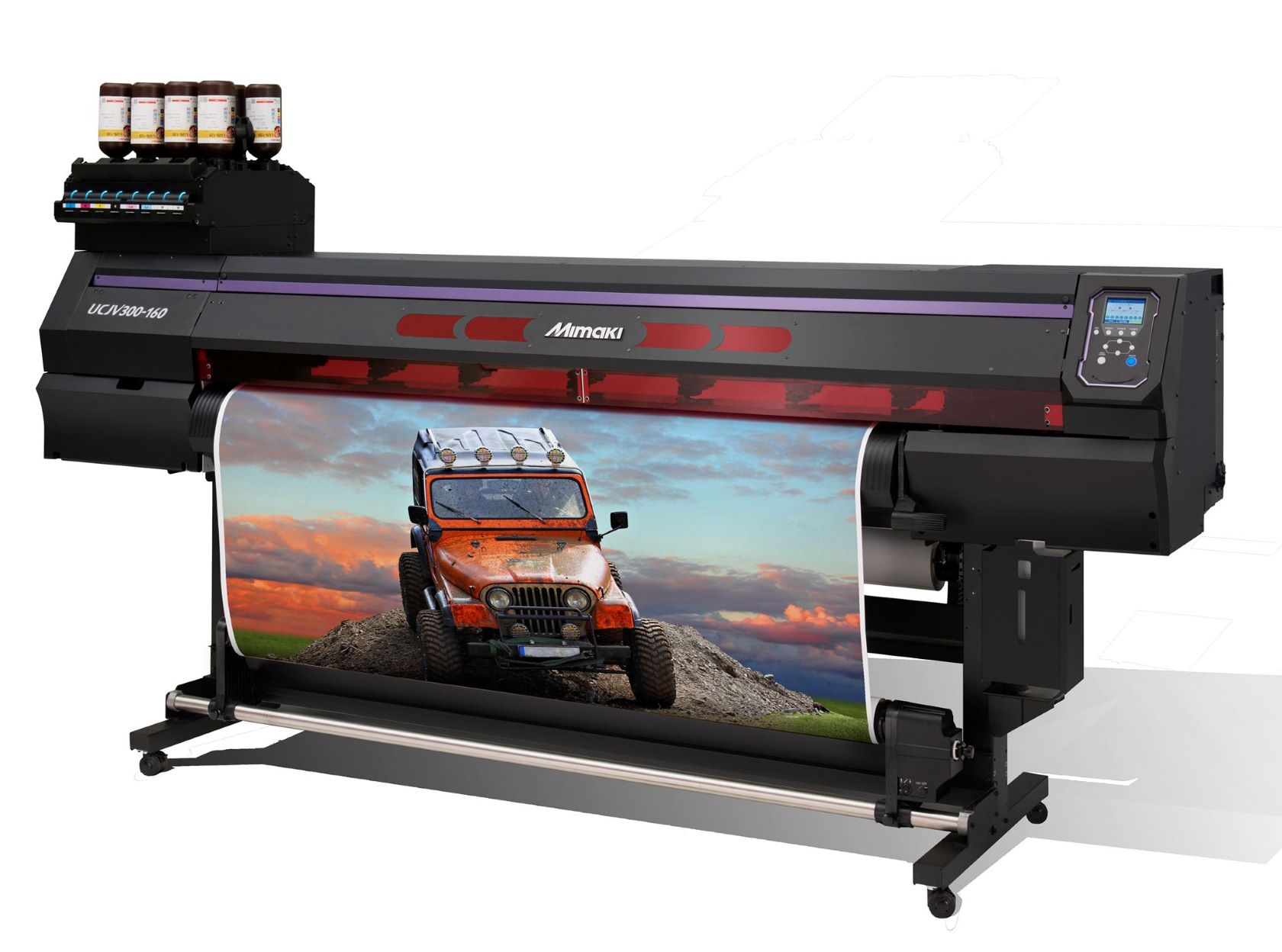 Meet What's Possible with Mimaki®
Mimaki equipment is in-demand by Fortune 500 companies to boutique Mom & Pops – because the products it makes possible are just as diverse. Discover why and what can be for your company.
Keeping his finger on the industry pulse, Millcraft Wide Format Sales Manager Mike Barrett says he'd long had his eye on Mimaki as a pioneer, leader, and trendsetter in wide-format printing.
From 1996 when Mimaki released the world's first-ever inkjet printer using pigment ink, to 2012, when Mimaki dominated the industry with the world's fastest dye-sublimation inkjet printer available, to 2017, when Mimaki unleashed the UCJV300-160, the world's first 64" UV-LED integrated printer/cutter. That was the one.
That was the all-in-one printer/cutter that compelled Barrett to take action, the catalyst to Millcraft forging a partnership with Mimaki in 2018, the source of sales awards for Millcraft in 2019 – and, to date, the Mimaki UCJV300 Series remains the basis of Millcraft's top-selling wide-format solutions (alongside the versatile Mimaki UJF and JFX printers).
"They open doors to many industries," Barrett says. "With these machines, if it will physically fit, just about anything that can be printed on."
"At this point, you're only limited by your own creativity," says Calvin Hill, Channel Sales Representative, Midwest Region, Mimaki USA, Inc. "The question today is, simply, "What do you want to print on?"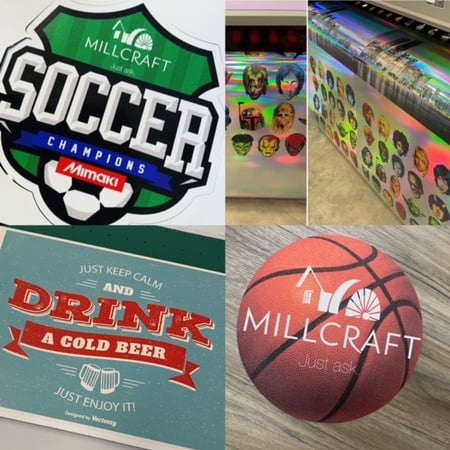 Meet the Products
With ink technology evolving to include eco-solvent options and now UV ink, which dries instantaneously, provides extreme durability and flexibility, and eliminates the need to laminate – and print technology today facilitates the ability to print directly onto nearly any substrate and customize, well, practically anything – the product possibilities with Mimaki equipment are about limitless:
Outdoor Signage
Water Bottles
Banners
Golf Balls
Yard Signs
Home Decor (wood and canvas)
Wrap Around Signage
Candles
Exhibition/Trade Show Materials
Cell Phone Cases
Adhesive Vinyl
Ceramic Tiles


Meet the Machines
Flatbeds, roll-to-roll, table-top printers – machines that print, feed, and cut, with UV-LED ink technology, head heights up to six inches, and 64" capabilities – equipment options are vast.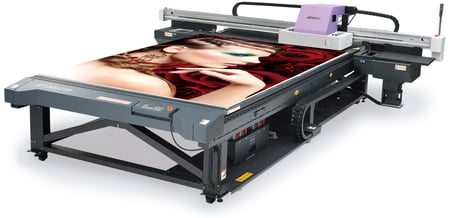 As an authorized dealer, Millcraft features Mimaki® printing equipment, plotters, and operational software and employs three fully certified technicians available to install, answer questions, troubleshoot, and support business growth through Mimaki® equipment. Meet the Millcraft Mimaki fleet here – see Mimaki equipment live and in action at Millcraft's demo center, physically and virtually.
Regarding the UCJV300 Series, including the world's first 64-inch UV-LED integrated printer/cutter – the equipment that compelled Barrett and Millcraft to take action with Mimaki – and the basis of Millcraft's top-selling wide-format solutions, meet the UCJV300 Series.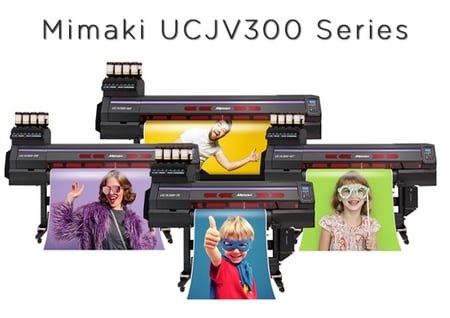 UCJV UV-LED print-and-cut devices deliver an amazing array of applications that are instantly dry, making it possible to laminate and/or cut immediately after printing for the highest efficiency in workflow. Unique multi-layer printing produces innovative graphics for backlit applications, while advanced printing techniques and precision cutting capabilities enable the delivery of complete campaigns that include signs, posters, banners, labels, decals, and more. Meanwhile, industry-leading ink performance brings the versatility of white with the quality, stability, and reliability of an original Mimaki solution.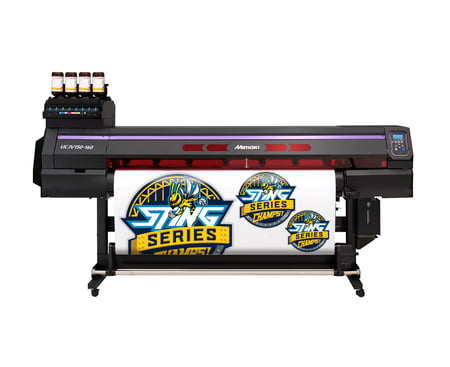 Highest media versatility with unparalleled scratch resistance
Three-, Four-, and Five-layer printing for creative day/night displays and two-sided printing
Cut and print capability in one unit with new cost and material-saving functions
Best in class for profitability, combining high-quality print with ultra-low running costs
Eco-friendly with low VOC, GREENGUARD Gold certified UV-LED
Peace of mind with available MCS and ICS warranties
Endless design possibilities with white ink
Meet the Demand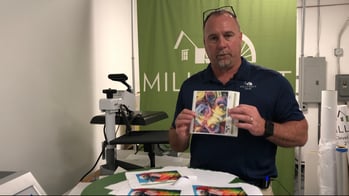 Barrett says it's a misconception that only large commercial printers and print shops can benefit from Mimaki equipment. With investments ranging from approximately $10,000 to $200,000, Barrett says, "I've met with many smaller businesses working with a UCJV300 printer, a gentleman printing in the spare room of his home and selling online, a husband-and-wife team, who were making six figures on Etsy from their kitchen, who'd invested into a UJF table-top and eventually a UCJV300 roll-to-roll."
As Covid-19 created an increase in online ordering, and the Internet continues to present greater demand along with the need for speed of high-quality deliveries, Barrett says Mimaki equipment is available at a price point to meet nearly every budget and allows customers to broaden their horizons with the products possible.
When it comes to wide-format printing possibilities, as Hill said, customers are only limited by their creativity, and with Mimaki, the question is simply, "What do you want to print on?"
With Millcraft, for wide-format printing products and equipment, as always – Just ask.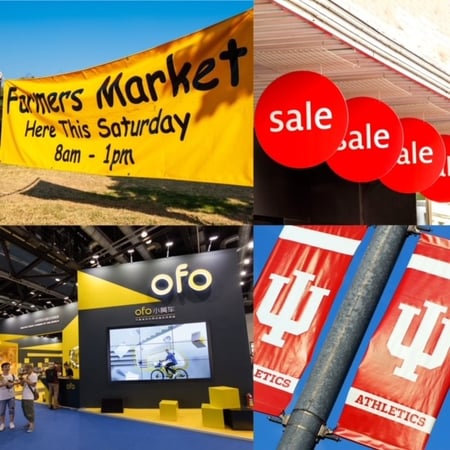 By: Jen W. O'Deay