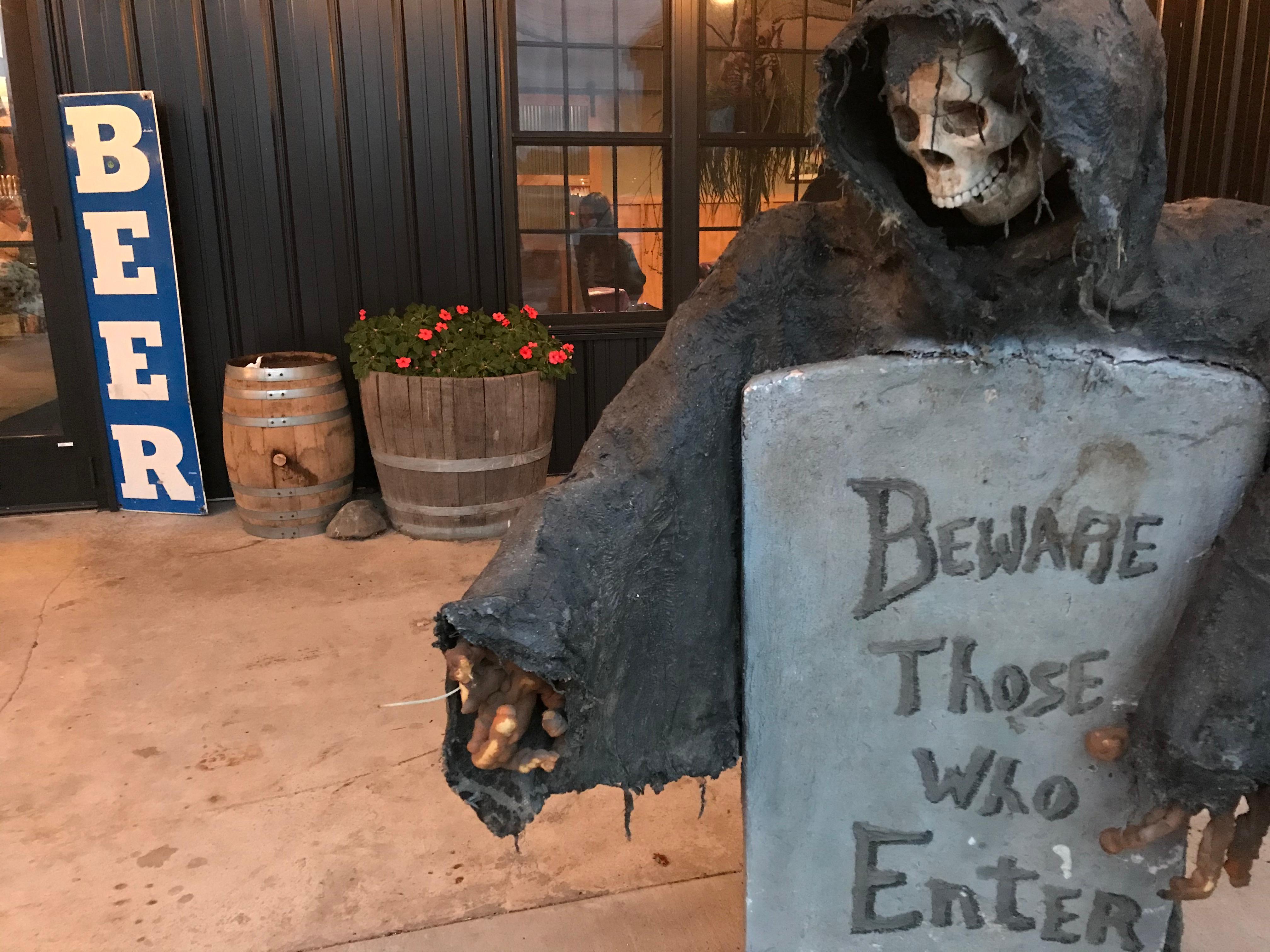 Are These the Most Haunted Breweries In The Midwest?
By now, the yard decorations are out. The candy is stocked.
Halloween is in full swing.
The team at Millcraft Beverage Solutions wanted to get in the spirit and highlight a few of the spooky breweries in the fine beer states of Michigan, Ohio and Indiana. Grab your EMF reader. Here's a rundown of some of the most haunted breweries in the Midwest:
Michigan
Location: Grand Rapids, MI
Spooky stuff: Voices. Shadows. Creepy footprints. Those are a few of the oddities reported by the staff at Mitten Brewing Co. on the West Side of Grand Rapids. Before owners Max Trierweiler and Chris Andrus purchased the building in 2012, it was the old Engine House No. 9 from 1891 to 1966. While the brewery continues to thrive with its Detroit Tigers-themed brewery and, um, killer pizzas, the team has a few experiences with guests who didn't make a reservation, including rumors of a firefighter who died there.
"Oh yes, there's definitely something up there," co-owner Chris Andrus said to WOOD TV-8. "The longer we stayed here and worked, the longer the nights we were here, we started to notice strange sounds, shadows moving. And we started to question what exactly had gone on in this building for the past."
Location: Plainwell, MI
Spooky stuff: You know when your ghosts have names, it has gone to a different level. Say hello to William and Charles, the two ghosts who frequently send the staff at Old Mill Brewpub scattering around the more than 150-year-old former buckwheat flour mill. Portions of the four-story building date back to 1869. It is a treasure trove for local paranormal investigators who have visited the brewery to try and determine the knocks, flickering lights, slamming doors and other unexplainable occurrences in the brewery, which opened in 2013. Investigators believe there are two ghosts who enjoy the property. Charles, who may have been part of the construction of the building, is viewed as a "caretaker" and doesn't have bad intentions. William on the other hand is theorized to be a young male with a checkered past who may have met his demise on the nearby train tracks.
Indiana
Location: Auburn, IND.
Spooky stuff: Attics are usually weird. Throw in bizarre handwriting and slamming doors and you've got the upper level of Auburn Brewing Co., which opened in 2018. During construction on what was a 1920s auto service center, co-owners Josh and Emma Metcalf discovered a "random room" in the attic with several locks on the door. There appeared to be children's handwriting on the walls. Employees say they've experienced doors slamming. It was enough to call in Jill Devine of DeKalb County Haunts in 2021.
"There's definitely some kind of activity going on. It seems to want to communicate and it acts like it's listening and answering," paranormal investigator Jill Devine said.
Location: McCordsville, IND.

Spooky stuff: Scarlet Lane Brewing doesn't need to wait until October to get dressed up for Halloween. Brought to life by Eilise Lane in 2014, this Indianapolis-area brewery's tagline is "The Official Beer of Horror." And that commitment runs deep. In addition to beers named "Horrorhound Ale" "Hell Imperial Stout" and "Slasher Stout," it also boasts The Dungeon. The space is the original set of famed Indianapolis TV horror host, Sammy Terry. The role originated in 1962 by Robert "Bob" Carter as Sammy Terry, a play on the word "cemetery." The program showed horror two films with Sammy Terry providing commentary between breaks. Robert Carter died in 2013, but his son, Mark, continues the Sammy Terry tradition. The Dungeon at Scarlet Lane is museum of sorts to the local scary icon. Scarlet Lane also brews Sammy Terry Kolsch, which is "designed to pair with your nightmares" and with "a touch of blood and citrus hops."
Ohio
Location: Toledo, OHIO
Spooky stuff: When the "About Us" section of your website makes space for information about "hauntings," then you're a serious contender for most haunted brewery in the Midwest. Maumee Bay Brewing Co., established in 1995, occupies the famed The Oliver House, the last hotel from groundbreaking architect Isaiah Rogers and the oldest building in Toledo. Opened in 1859, the building seemingly has a scary story for every year of its existence. The brewery does its best to answer the million-dollar question on its website, "Is the building haunted? While we can't say for sure, we do know that over the years, the evidence has become too frequent and compelling to ignore. As employees past and present tell it, the building has multiple recognized or well-known friends from years gone by: a former ship captain, a woman in a white dress, and other friends of years gone by. People swear they've smelled cigar smoke even when no one's around."
Read more here.

Phoenix Brewing Co.
Location: Mansfield, OHIO
Spooky stuff: When you open a brewery in a former mortuary and boast that you are "resurrecting tradition, one batch at a time," you're kinda begging for ghosts to pay a visit for a pint. Enter, Phoenix Brewing Co., which opened in 2014 in the former Schroer Funeral Home and Mortuary. The building sat vacant for seven decades before the brewery opened, where it now serves a variety of beers, including wheat ales named John Doe and Jane Doe. Customers and employees describe being bumped into by invisible entities. Paranormal enthusiasts frequent the brewery and the Phoenix team offers ghost hunts. What's that? You're not a beer person? Good. Head upstairs to Phoenix Brewing Co.'s "The Spirit Room," where you'll find, well, you've probably figured it out by now.

Read more here.

Other: Great Lakes Brewing Co. in Cleveland, Ohio, offers "Haunted Halloween Tours," where you can "join one of our tour guides for a tour through our iconic brewpub buildings, all with beer in hand. Explore the history of these building that now make up our brewpub and hear the stories of ghosts that still haunt them." Unfortunately, these tours are sold out for the 2023 season.

Did we miss one? Send us an email at justask@millcraft.com.